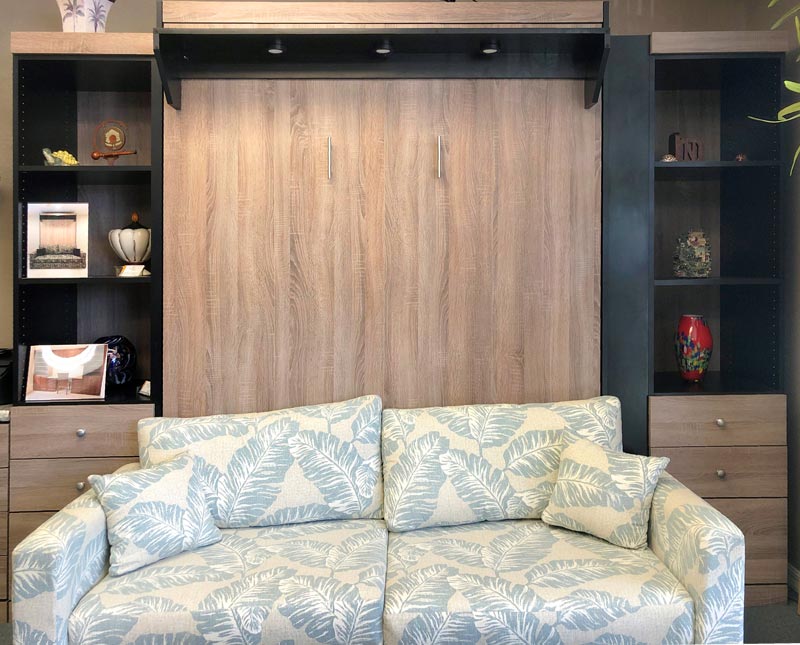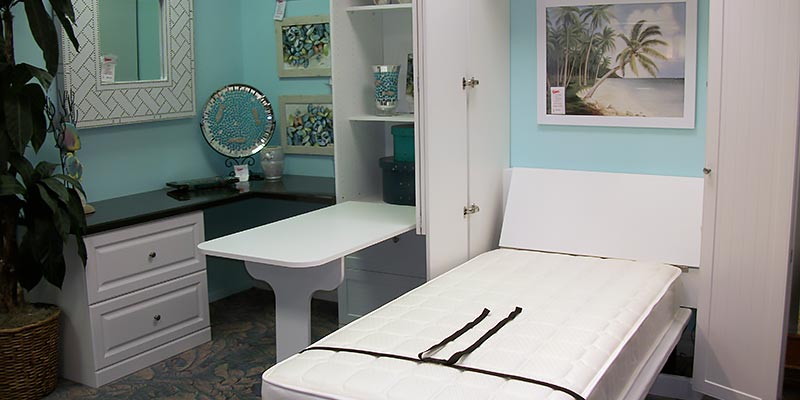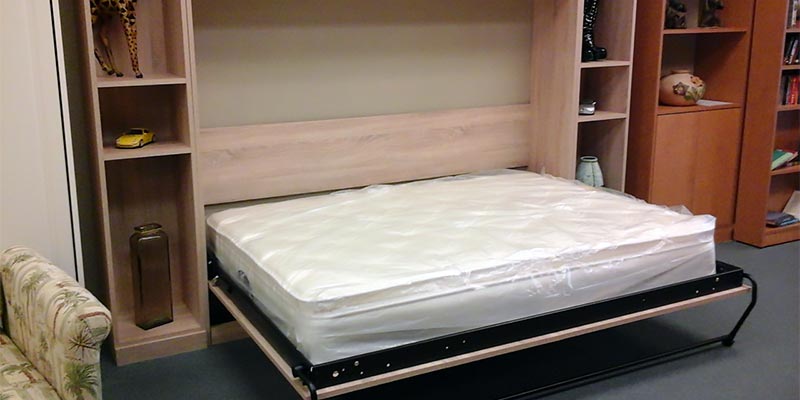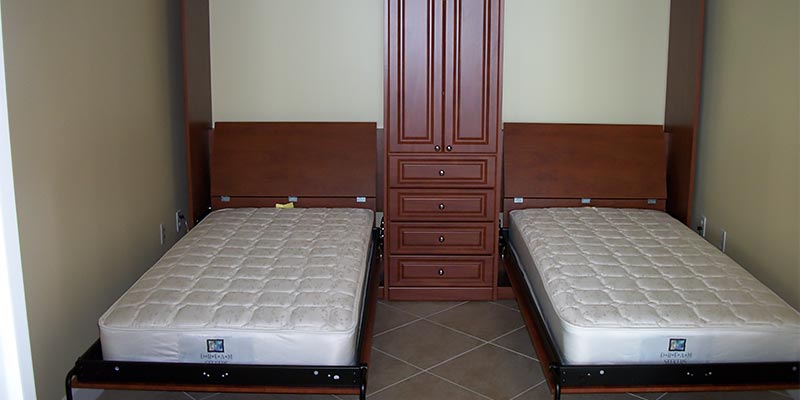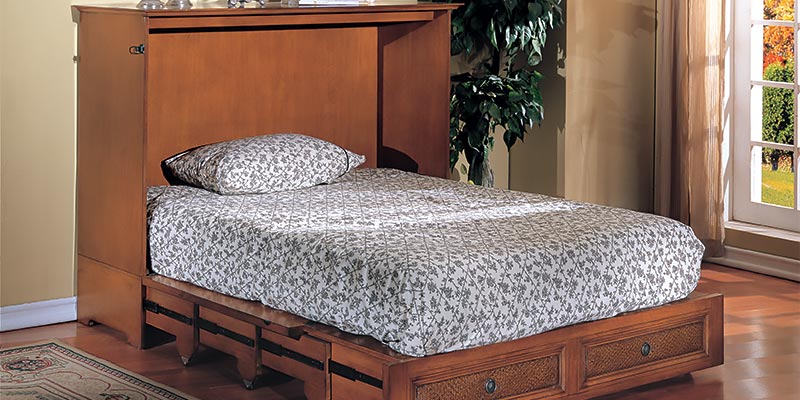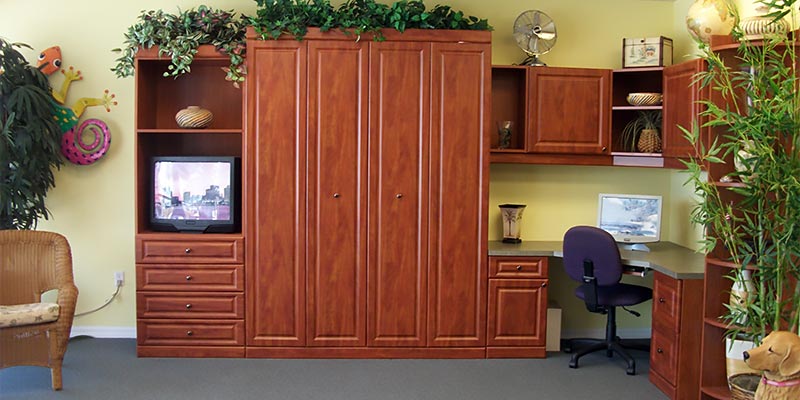 The Best Place in South Florida to Shop for Murphy Beds ("Wall Beds")
Miller's Murphy Bed and Home Offices is the Most Versatile Murphy Bed Store You Will Find.
Visit our showrooms in Sarasota, Port Charlotte and Fort Myers; get creative with your own Murphy Bed room.

Happy 4th of July
Holiday hours for all Murphy Bed locations:
Open Friday, July 3rd
Closed Friday, July 4th
Resume Normal Business Hours Monday, July 6th
What Our Customers Say
Outstanding service. Before bed was installed, the store (Nancy) called and told us one of the panels has a flaw in it (we had a hard time seeing the flaw) and they would install the… bed and return later to replace the panel. They withheld $300 from the total bill until they returned to replace the panel. The installers Eric and Darrell were also outstanding. Well done. More "Outstanding service."
Very knowledgeable and helpful! No pressure but good information!
The family at Miller's Murphy Beds makes for a great environment. If you are looking for a murphy bed, custom closets or a custom office, this is the place to go. They are a family… owned and operated business that charges competitive prices for a premier product. More "this is the place to go"
I just wanted to send you an email to tell you how pleased we are with our room after the installation of the Murphy Bed and desk. I had some reservations on installing a Murphy… Bed as I couldn't picture the finished room, and wasn't sure if the room would come out okay. It came out better than I expected. We love it!!!! I keep going and looking into that room and admiring it. We want to thank you for you help with the design as it is just perfect. The gentlemen that installed the units last Thursday were so professional and pleasant. We had company here and he also commented on how impressed he was with the unit and the installers. The installers paid so much attention to details and always checked with us to see if we were pleased with each step. They were great!!! I just felt I had to let you know how happy we are with the way this room turned out with the Murphy Bed and desk. Most of the time you always hear the negatives and you should definitely hear the positives. Thank you again for being there from start to finish and right on top of everything. More "It came out better than I expected."
My office was dull and boring. After calling Miller's Murphy Bed and Home Offices, they designed an office space for me that I actually look forward to going to work in every day. The hidden… murphy bed in the wall is excellent for entertaining out of town guests too! Thanks guys! More "They designed an office space for me"
We met with Cathy and she explained to us all the different types of Murphy beds and mattresses and helped us choose what would work best for us. They even came to our house and… measured and checked the room to make sure everything went smoothly. Thanks! More "They helped us choose."
They built my Murphy bed for my guest bedroom. The whole process was smooth and I got EXACTLY what I wanted. Thank you guys!
Great experience from start to finish. Nancy came to our condo with samples and we're pleased with our choice. The installers were thoughtful and careful. The unit looks great and turns my study into a… perfect guest room when needed. More "thoughtful and careful"
The installers just left and it looks amazing!
Did you know Murphy Beds come in a variety of styles?
It's like adding another room without the high remodeling costs.
Miller's Murphy Bed and Home Offices has the largest selection of Murphy Bed styles to see and choose in southwest Florida! Stop by our showrooms in Fort Myers, Port Charlotte and Sarasota to decide which style suits your space the best. We'll offer our experience and creativity to come up with a solution perfect for you.
All of our beds are customized to fit your space and decor.  Our knowledgeable staff is available to answer any questions.
Call now for your free in-home consultation and measurement!
(941) 743-BEDS (2337)
 COVID-19 Safety Procedures
 Miller's Murphy Beds and Home Office stores are sanitized daily and practice physical distancing protocols.  Our Employees are screened for wellness daily. If you have any concerns or questions, please call us at (941) 743-2337.
Murphy Bed Types & Styles

Click on the images below to see more pictures of each style.
Get the most space out of your home office
and guest room with a Murphy Bed!
We specialize in Murphy Beds for home offices, small rooms, and guest spaces of all sizes. We are adding new and different Murphy Beds and space-saving beds all the time. Stop by one of our showrooms conveniently located in Sarasota and Port Charlotte, Florida. We offer licensed contractor services to help you build your entire project.
Our staff will work with you to design the perfect "Murphy Room" for your needs and budget, contact us now to find out about our free measuring service!
Enjoy the benefits of a space saving Miller's Murphy Bed and Home Office
What We Do for You...
Custom designs & builds
Installing, refurbishing and moving
Space-saving organizers for closets and garages
Free in-home consultation
Free in-home measuring
Delivery and installation
Serta innerspring mattresses (Upgrades available: Pillow Top or Memory Foam Mattresses)
NEW! Remodeling and contractor services